Coney Island Baby NYC Presents
James Chance
with The Art Gray Noizz Quintet
Sat
December 29
@ 8:00 PM
( Doors:

7:30 pm

)
Coney Island Baby
Ages 21 and Up
Artists
James Chance
A key figure in No Wave, Chance has been playing a combination of improvisational jazz-like music and punk in the New York music scene since the late 1970s, in such bands as Teenage Jesus and the Jerks, James Chance and the Contortions, James White and the Blacks, The Flaming Demonics, James Chance & the Sardonic Symphonics, James Chance and Terminal City, and James Chance and Les Contortions. His music can be described as combining the freeform playing of Ornette Coleman with the solid funk rhythm of James Brown, though filtered through a punk rock lens.
Born and raised in Milwaukee and Brookfield, Wisconsin, Chance attended Michigan State University, then the Wisconsin Conservatory of Music in Milwaukee, dropped out and moved to New York City in 1976. He quickly became active in both the free jazz and no wave punk rock scenes. His first band in New York in 1976 was an instrumental quartet with violin, drums and bass called Flaming Youth. After studying for a short time under David Murray, Chance formed The Contortions, who fused jazz improvisation and funk rhythms, with live shows often ending in violence when Chance would confront audience members. The Contortions reached a wider audience with their contribution to the Brian Eno-compiled No New York collection of No Wave acts.

Chance's stage and musical persona were finalized by romantic partner and agent Anya Phillips, who
died of cancer in 1981. Frictions between Chance and band members eventually led to a breakup of the Contortions in the fall of 1979. The Contortions released one album, Buy, in late 1979, and another album, Off White, under the pseudonym James White and the Blacks in 1980 (featuring Lydia Lunch under the pseudonym Stella Rico). Chance re-formed James White and the Blacks with a completely different lineup that appeared on the 1982 album Sax Maniac which was dedicated to Phillips. The group released one more album, Melt Yourself Down, a very limited Japanese release.

The first version of the Blacks was set up by Joseph Bowie. Shortly after, Defunkt emerged out of the Blacks. In 1982 Chance toured with the re-formed James White and the Blacks with his brother David "Tremor" Siegfried and his band David and the Happenings from Carbondale, Illinois, playing Chicago, their hometown Milwaukee, and much of the Midwest. Chance briefly relocated to Paris, returning to New York City in 1983 to record the album James White Presents The Flaming Demonics. In 1987, he contributed saxophone to The False Prophets' Implosion album.
In 2001, Chance reunited with original Contortions members Jody Harris (guitar), Pat Place (slide guitar) and Don Christensen (drums) for a few limited engagements. Original keyboard player Adele Bertei appeared briefly, but bass player George Scott III had died of an accidental drug overdose in 1980 and his slot was filled by Eric Sanko. The reunited group has played twice at the All Tomorrow's Parties music festival, and, in 2008, at the PS1 Warm Up series. Chance has also recorded with Blondie since coming out of his semi-retirement. Tiger Style records released the 4-CD box set retrospective Irresistible Impulse to critical acclaim in 2003.
In addition to limited engagements with the original Contortions, Chance has occasionally performed and recorded with the Chicago band Watchers. In Europe he performs with James Chance & Les Contortions, French musicians who have been his backing band since 2006. They played a 15 show Europe tour in April and May 2007 and were back in Europe in October 2007. In May 2012 they released the CD Incorrigible! on the French label LADTK, comprising seven Chance originals and two covers, all of them brand new recordings.
In 2009 Chance made occasional appearances playing keyboards in NYC with a trio, with the material restricted to close readings of jazz standards. In June 2012, Chance played in Portland, OR with local group Ancient Heat as his backing band. They played a number of songs from various points in his career, including a new cover of Gil Scott-Heron's "Home is Where The Hatred Is."
In early 2013, James toured Europe extensively with Les Contortions, and also made his first ever South American appearance, in Sao Paolo, at Virada Cultural 2013. He continues to play engagements in NYC and elsewhere.
The Art Gray Noizz Quintet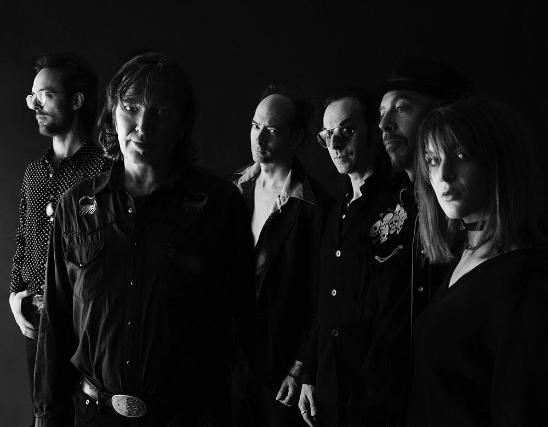 "Speaking of noise, that's kind of Stu Spasm's thing — from Lubricated Goat in the late 1980s and Crime Wave in the early aughts to his current project, THE ART GRAY NOIZZ QUINTET. This elder statesman of clamor hasn't lost his touch"
- THE NEW YORK TIMES
Spearheaded by twisted Australian guitar veteran STU-ART GRAY, perhaps more infamously known as STU SPASM, THE ART GRAY NOIZZ QUINTET is the antidote for a New York City scrubbed clean of character.
Possibly best known as founder and survivor of 1980's noisy, mutant-jazz marauders LUBRICATED GOAT, Spasm's crooked career has taken him staggering across the globe and through many musical flashpoints. From beginnings as a wayward Adelaide youth, marinating in the murky scene that spawned The Birthday Party and The Scientists, to playing as a member of legendary swampy supergroup THE BEASTS OF BOURBON, touching down in Seattle to found CRUNT with then-wife Kat Bjelland of Babes In Toyland and Blues Explosion drummer Russell Simins, or finally settling into the fertile muck of the Lower East Side's noise rock scene of the early 1990's.
Fittingly, THE ART GRAY NOIZZ QUINTET were birthed to perform for an after-party celebrating the New York City premiere of AMPHETAMINE REPTILE documentary THE COLOR OF NOISE. As LUBRICATED GOAT had run it's course, Spasm saw fit to seek out a new cast of musical troublemakers. Some more trouble than musical... First call was drummer extraordinaire RICH HUTCHINS, veteran of such explosive exports as LIVE SKULL, OF CABBAGES AND KINGS and Philadelphia hardcore outfit RUIN. Next, NYC scuzz rock stalwart SKELETON BOY of WOMAN was recruited. "Who, just as LEADBELLY was the King Of The Twelve-String Guitar, is himself The King Of The Two-String Bass", says Spasm. Then came the twang, with the addition of suave slinger ANDREA SICCO of TWIN GUNS. "When our guitars merge, it forms a most piquant aural melange." In a nod to the latter half of his birth name, SPASM now became ART GRAY, and an entirely new mess was born. As THE ART GRAY NOIZZ QUINTET hit the streets and stages, the fifth arm of the band mutated into an ever-rotating slot, a wildcard ranging from synth, horn section, or clattering scrap metal percussion. Spasm's signature, singular guitar sound and the band's penchant for savage live performances soon caught the eye and ear of no-wave queen LYDIA LUNCH, who snatched them for a pair of support slots on while touring for her Retrovirus retrospective project.
With recent gigs supporting THE SCIENTISTS and MUDHONEY, THE ART GRAY NOIZZ QUINTET push forward, continuing to cut a sleazy, heavy, swinging swath through the dull hordes of the New York music scene.