Coney Island Baby NYC Presents
Beechers Fault
with Waiting for Henry
Sat
January 26
@ 8:00 PM
( Doors:

7:00 pm

)
Coney Island Baby
Ages 21 and Up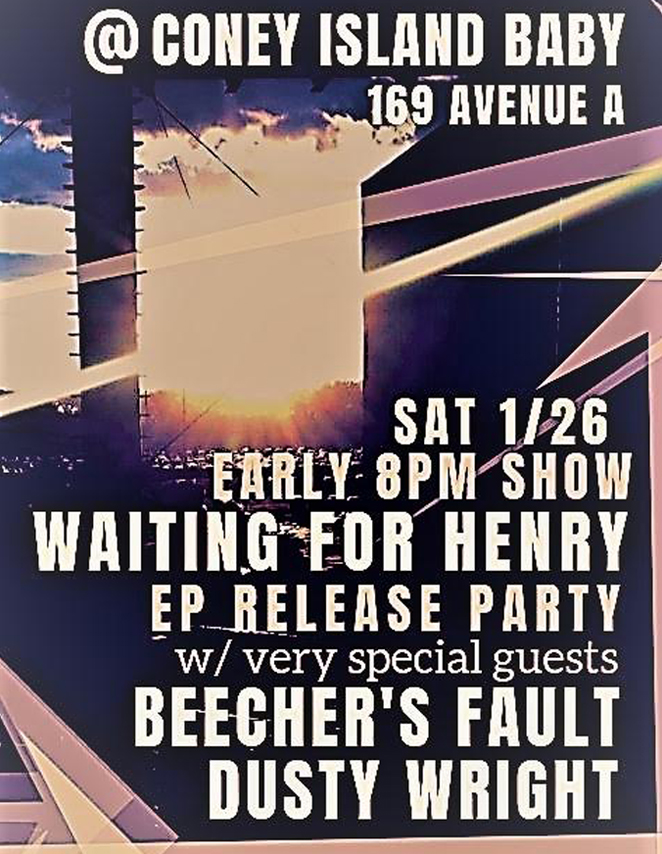 Artists
Beechers Fault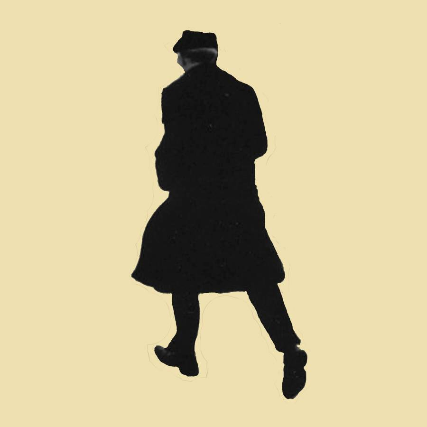 "BEECHER'S FAULT HAVE ONE FOOT IN PEARLY POP, WHILE INCLUDING SONIC SOMERSAULTS TO KEEP YOUR HEAD TWIRLING WHILE YOUR FEET ARE MOVING." -DELI MAGAZINE

"THE FUTURE OF POP" - LIC COURRIER

"BEECHER'S FAULT EXPRESSES A LAYERED SOUND THAT REACHES ALL TYPES OF MUSIC LOVERS." - THE VAULT

Beecher's Fault hails from beautiful Astoria, New York. The leaders of the band, Ken Lamken and Ben Taylor, met in New Jersey a few years back before they booked it to NYC to seek out the limelight after realizing their musical compatibility. Max Maples (drums) and Serge Ruccolo (Bass) now complete the quartet that has been said to have live performances that produce a "wall of sound" complemented by "raw, honest lyrics" and "pristine vocal harmonies".

As Anil Sharma from the Examiner puts it: "Their lyrics are visceral, their melodies catchy; in short, you will have their songs stuck in your head for quite a while." They have recently completed their third EP, "Do As People Do" which was released in the summer of 2015. The song "Matchstick Kings" was recently featured in the trailer of "The Outfield" starring Nash Grier, Cameron Dallas, and Joey Bragg.

"WE ARE THE KIDS THAT ARE MAKING THINGS"
Waiting for Henry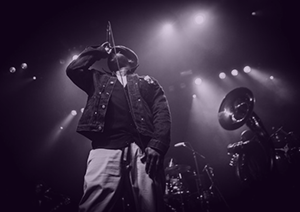 Waiting For Henry is a new band of old friends brought together by the emotive American rock & roll of their debut album: Ghosts & Compromise. Fronted by formerMr. Henry lead singer/guitarist, Dave Slomin, the band includes Dave Ashdown on drums, guitar & vocals and Michael Chun on bass. Like all artists meant to be heard, Waiting for Henry draws on the past in order to see the future… both musically and personally. AmericanaRockMix got it right, recognizing in Ghosts the "great music that can be rendered when a band lands on the borderline of indie rock and Alt. Country without getting too caught up in either territory"

While the band formed in 2010, the members' history goes much deeper. Slomin and Ashdown were college bandmates in Upstate New York back in the late 1980's, while Chun played in a rival group. Constant vying for the same gigs created a serious band rivalry that kept them apart (…if not at each others throats). But, after moving to NYC, Slomin and Chun found themselves running into each other in the same clubs, for the same shows, and realized they shared the same taste for overdriven guitars and gritty songwriting. When Ashdown moved to New York in 2010, the lineup was set.

Dave Slomin broke through in the mid‐1990's with his NYC‐based band, Mr. Henry, which signed to EMI and Deep South after a thundering showcase at 1995's SXSW Festival. Following the set, Concrete Magazine called Mr. Henry "the best band of the SXSW week". Mr. Henry's music captured a unique place between the newly rising Alt‐Country of Wilco and Whiskeytown and the earthy American pop rock of acts like Gin Blossoms. The band recorded with renowned producers John Hampton (Replacements, Gin Blossoms) and Dave Bryson (Counting Crows) and toured constantly, headlining clubs and opening for bands as widely varied as Counting Crows, Iggy Pop and The Bottle Rockets. By 2001 the band went on temporary hiatus, which became more permanent as members moved throughout the country and the world.

Dave Ashdown, followed a similar route to the road through the Chicago music scene of the 1990's. Playing drums and guitar and touring with acclaimed bands Boom Hank, Braam and Billhouse. In 2009, Dave released his first solo album, Dashdown, showcasing serious talents as a songwriter and producer and earning acclaim from radio and press. Lin Brehmer at WXRT called Dashdown "a latter day Replacements." Rounding out the trio, Mike Chun is a veteran of the NYC club scene, playing with downtown regulars The Interim Project and a former member of renowned Hampton's party band Hot Lava.

Waiting for Henry actually started out as a reborn Mr. Henry, with Slomin wanting to get back to the "band thing" after releasing a solo album in 2006. After a coupla years of fits and starts, the right songs came together and, while sounding very "Henry, " it really wasn't "Mr." with the original Hanks on to other things. So, Waiting for Henry was born.

Ghost & Compromise clearly echoes the undying influence the original indie bands of the 80's & 90's have had on Waiting for Henry's brethren. The beautiful grit of The Replacements and Buffalo Tom, the melodic jangle of REM and the American twang of Uncle Tupelo is all in there, decidedly, and waiting to be heard… again.