Coney Island Baby NYC Presents
Revel In Dimes
with Kendra Morris, Julia Haltigan
Wed
March 6
@ 7:30 PM
( Doors:

7:00 pm

)
Coney Island Baby
Ages 21 and Up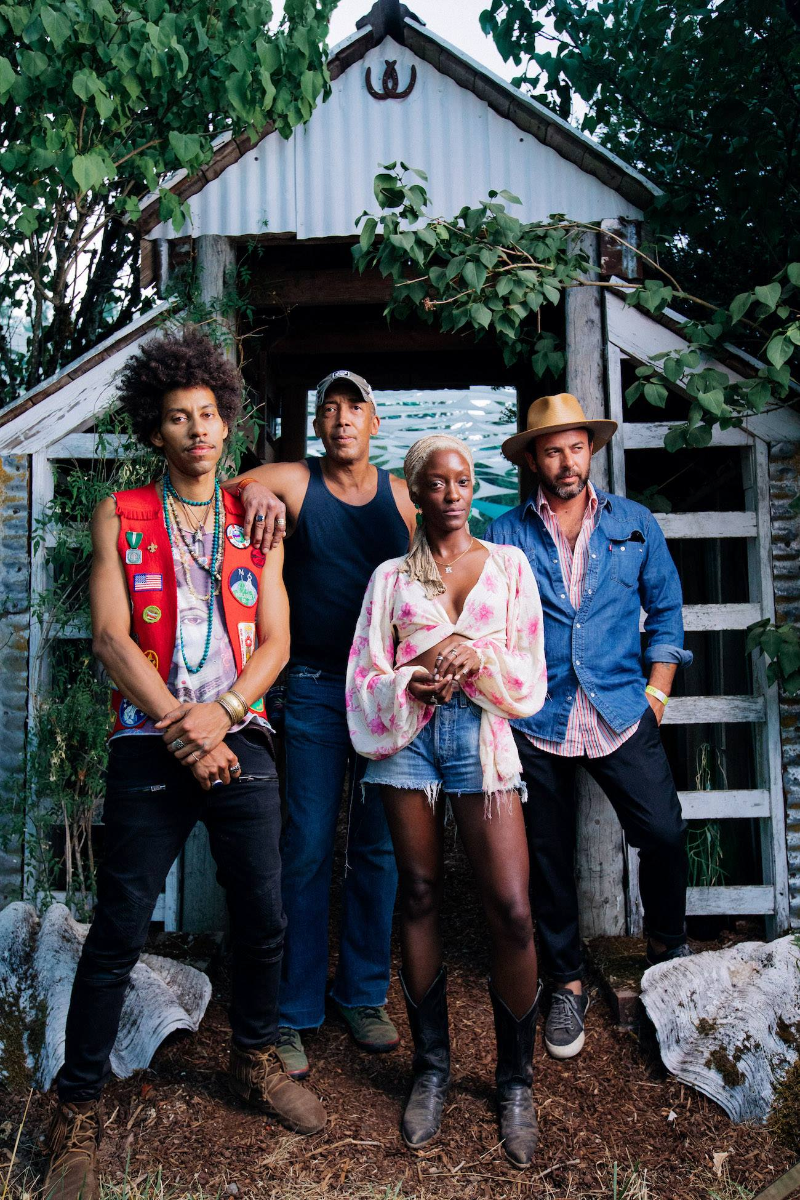 Artists
Revel In Dimes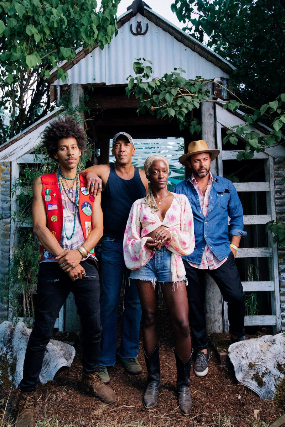 If the delta blues gave birth to yet another slew of gold records why wasn't anyone dancing?
After each gig as hired guns in too many New York City bands, this is the question that Eric Simons (guitar) and Washington "Washy" Duke (drums) found themselves asking. Their answer involved meditating over juke rhythms from Junior Kimbrough and R.L. Burnside and covering their tracks with electrified Charlie Patton riffs.
When Kia Warren saw them play for the first time – two guys covering T. Model Ford at full volume on a Sunday at the Surf Lodge in Montauk – their live set stopped her in her tracks. Amid the grooves, there was grittiness to their music that her roots in Gospel and R&B hadn't yet given her the opportunity to explore. She convinced them on the spot to let her join on vocals for a few tracks, and Revel In Dimes was born.
Multi-instrumentalist Chris "Premo" Waller (bass) joined shortly after picking up an unsolicited "seeking bass player" call. A veteran of New York City's vast underground music circuit, Waller's experience playing everything from hardcore punk, to soul, to psychedelic rock enabled him to bring a groove to even the most frenetic jams.
Together, Revel In Dimes is a band that knows where it came from, but refuses to follow the same routes as its contemporaries to get where it's going. And like the best blues, their music can't be explained so much as it must be felt.
Kendra Morris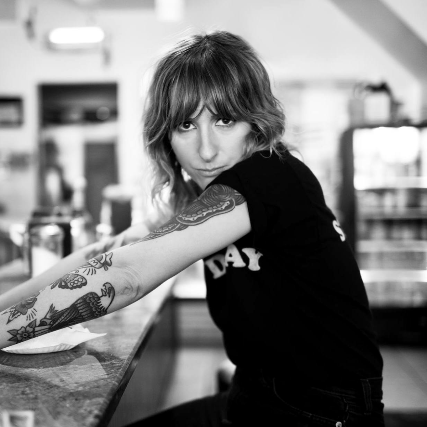 Kendra Morris recalls singers who straddled soul and rock during the early '70s, such as Ruth Copeland and Chaka Khan. Her taste was developed through her parents' record collection, a library heavy on late-60s and early-70s soul and funk. During her childhood Morris's best friend was her karaoke machine, which she used for the sake of recording and learning to harmonize with herself. She eventually taught herself guitar and involved herself with a crappy band which moved to New York in 2004 and broke up soon after. Kendra stuck around and wound up recording songs by herself in the closet of her bushwick loft with an old Tascam 8 track she found in the east village and began releasing the demos online. It was through these demos and playing shows around the Lower East Side of Manhattan with her Fender Mustang rigged through A Sharp GF 777 Boombox that she met her still constant producer and collaborator Jeremy Page. After touring with legendary Motown Funk Brother Dennis Coffey and releasing a series of singles that she did with page including "Concrete Waves," with b-side remixed by DJ Premier, Morris released the album Banshee (2012) on Wax Poetics Records. In 2013, Morris returned with the covers album Mockingbird.
Both Banshee and Mockingbird received much acclaim, a cult following and several film + tv placements. The title track "Banshee" was used prominently in the Showtime hit series Ray Donovan and would end up as one of popular music seek app 'Shazaams' most searched for songs following the airing of the episode while her cover of Pink Floyd's "Shine On You Crazy Diamond" found itself in the trailer for major motion picture Dead Man Down starring Noomi Rapace and Colin Farrell.
Between international touring and promo for Banshee throughout 2013 and 2014, Morris worked on a side project band with friends Scarlett Johansson, Julia Haltigan and Holly Miranda. With Este Haim joining on drums, they released one single "Candy" and a cover of "Bizarre Love Triangle" for AMFARs The Time Is Now compilation record.
Returning with her own follow up EP titled Babble in 2016 to positive reviews and more placements with Black & Mild, the OWN Networks TV show Queen Sugar and then some she continued working on new tracks with Jeremy Page as well as added focus to her love of visual art and connecting it to her sonic world. Having been collaging and doing stop motion animation a handful of years for her own album art and videos she wound up in the directors chair as well as animating the 2018 music video "Bomb Thrown" for the hip hop supergroup Czarface and MF DOOM record Czarface Meets Metal Face. Popular online magazine Mass Appeal cited the video as one of the best of 2018.
February of 2018 Morris began releasing her own new music with her first single "Nothing" off of an upcoming record and the second single "Playing Games" following close behind in April along with a Greg Nice of Nice & Smooth on the Break Up Mix and her cover "Virgin" with DâM-FunK playing shoulder synth on the breakdown. With a vocal feature on track #8 Phantoms from the new Czarface/ MF DOOM album, more visual projects and music collaborations to come and a new record of her own on the way, Kendra seems to be both a creative reckoning in a league of her own.
Julia Haltigan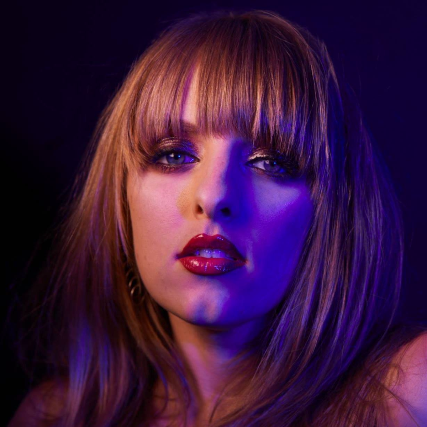 Acclaimed bombshell songstress Julia Haltigan came up on the Lower East Side of New York City when it oozed a heady mix of danger, possibility and art. She mademeaning of the painful complexities of her parents' split, her father's incarceration, and a freewheeling life of parties and a revolving cast of street characters.

Julia emerged from it all a sensitive badass who rides vintage Triumph motorcycles and sings primal rock n' roll with smoldering expressivity. Julia's signature artistry evokes Brigitte Bardot, Marianne Faithfull, Iggy Pop, Debbie Harry, and Lou Reed.

Her latest EP, Hot Tears, is a masterful collection, teeming with themes of heartache, images of broken bones, car chases, and nostalgia. Stunners in this set include the gritty swagger of the T. Rex-like "Money," the 1960s James Bond ballad-esque "Burning Bridges & Breaking Hearts," and the sleek and smoky "How To Make A Broken Heart," co-written with songwriting legend Mike Scott of The Waterboys.

Julia has performed as a part of the Varvatos Music Series, filling the store over capacity leaving a line around the block, and live on tastemaking radio personality Vin Scelsa's show Idiot's Delight. She's also shared the stage with such venerated names as Judy Collins, Steve Earle, Norah Jones, Montgomery Gentry, Rhett Miller, Nicole Atkins, and Holly Miranda, among others.

Outside of her solo career, she moonlights as the slinky Jessica Rabbit inspired jazz crooner 'Vivian Fairchild' in the off-Broadway hit "Sleep No More." She also performs in the fizzy pop band The Singles, alongside her buddies Scarlett Johansson, Kendra Morris and Holly Miranda. When not onstage or in the studio, Julia's straddling a 1970 Triumph Bonneville.